(From Kelley Herring of HEALING GOURMET,   here is another superb offering for our health and enjoyment and taste buds. Jan)
 PALEO – ASIAN  "DIPPING SAUCE"
One of my favorite jobs here at Healing Gourmet is to review new and different packaged foods that you might not be aware of. Most of the products we see on the store shelves simply don't make the cut…
They're either too processed or they use unhealthy ingredients. But we also discover some real gems – packaged foods that can save you time in the kitchen and use only the healthiest and highest quality ingredients.
These products receive Healing Gourmet's highest stamp of approval. They are featured as "Best Brands" on our website. Today (and in future newsletters) we'd like to introduce you to some of our favorites.
And be sure to read all the way to the bottom for a delicious and easy-to-make recipe…
Kelley Herring
Healing Gourmet
 *                        *                      *
Teriyaki chicken… beef satay… and a wok brimming with colorful, crisp-tender veggies. These delicious dishes just wouldn't be the same without the unmistakable flavor of soy sauce.
Or would they?
The flavor we associate with these delicious dishes is called umami. Known by the Japanese as "the fifth taste," umami deepens flavors and creates a "roundness" to foods that is vastly different from the four flavors we are most familiar with (sweet, salty, bitter and sour).  
The taste of umami is present in many foods, including asparagus, tomatoes, cheese, meat, seafood and seaweed. It is the mouthwatering result of a simple chemical reaction: the glutamate molecule breaking down. It happens when parmesan cheese ages… when a tomato ripens in the sun… and when soy sauce ferments.
Tasting these foods, it's easy to understand why the Japanese named the flavor umami – which translates to "delicious."
But if you're avoiding soy – either due to soy allergy, thyroid concerns or as part of a Paleo diet – you may find yourself pining for the comforting flavors of Asian cuisine.
Pine no more.Today I'm going to share one of my favorite new products that will give you all of the wonderful Asian flavor and umami… with none of the soy, gluten or processing you'll find in common sauces.
Coconut Aminos by Coconut Secret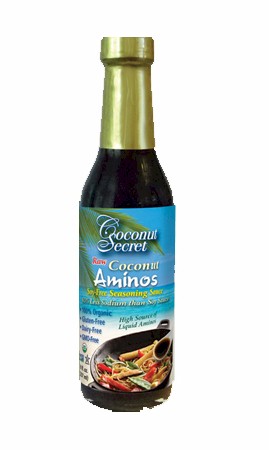 Just when you thought that modern food companies have tapped all the goodness that the ever-giving coconut tree has to offer – coconut oil, coconut water, coconut sugar, coconut flour, coconut butter – along comes coconut aminos.
This dark amber acidic liquid is made by naturally fermenting the sap of the coconut tree along with mineral-rich sea salt.  The result is a deliciously complex flavored condiment that not only adds a punch to Asian dishes, marinades, sauces, salads and more… it is also rich in 17 different amino acids.  And unlike most commercial "soy sauce" products, coconut aminos are not processed, hydrolyzed or adulterated in any way.
That means you won't get any of the MSG-like effects that can occur with most commercial soy sauces.  Coconut Secret Coconut Aminos are also vegan, GMO-free, dairy-free, wheat-free and grain-free – making them compatible with almost every special dietary need.
Look for Coconut Aminos made by Coconut Secret the next time you visit your local health food store. If you can't find the product there, Amazon carries this delicious and health-enhancing condiment.
Now, for a mouthwatering recipe you and your family will be sure to love…
Paleo-Asian Dipping Sauce with Coconut Aminos and SunButter
Try this sauce with Chicken Satay for a Paleo riff on an Asian favorite.
Total Time:  15 minutes
Yield:  2 cups
 
Ingredients
¾ cup coconut milk

½ cup water

½ cup sunflower seed butter

2 cloves garlic, minced

1 tablespoon organic apple cider vinegar

20 drops liquid stevia (to taste)

2 teaspoons Coconut Secret Coconut Aminos

2 teaspoons grated ginger
Instructions
In a small saucepan, combine all the ingredients and stir over low heat.

Simmer for 5 minutes, whisking.

Use additional water or coconut milk to thin, as necessary.

Store in an airtight container in the refrigerator
(Red Wine and Your Gut Important Study Results)
You probably already know that red wine can be very beneficial to consume, due to its antioxidant properties.
But there is another MAJOR reason why red wine in moderation can be a super healthy part of your routine. A new study shows that drinking red wine can decrease pathogenic bacteria in the gut… and actually increase growth of the friendly bacteria which protect your health.